Filter Cleaning Demonstration
REQUIRED FILTER MAINTENANCE
Your new hot tub is equipped with a Microban filter cartridge. To ensure maximum water quality at all times, you should replace the filter cartridge every six months, or earlier as necessary. The filter cartridge is designed to be thrown away! Attempts to re-use the filter cartridge may result in the re-release of unwanted particles back into the hot tub.
Turn off power at iscolation point.
Remove drinks tray.
Release Pressure from filter housing by releasing bleed screw.
Then release filter retainer ring by turning anti-clockwise.
Peel back the filter head on an angle to break the seal.
Then remove filter by lifting out.
Once the filter is out clean it weekly, and replace monthly.
Use a filter wand connected to a garden hose to throughly clean the filter.
To reinstall the filter reverse the removal process.
Leave the bleed screw loose, and turn on the power supply. 
The spa will now prime and release the airlocks.
Once water comes past the bleed nipple you can tighten the bleed nipple by hand.
Then replace the drinks tray cover.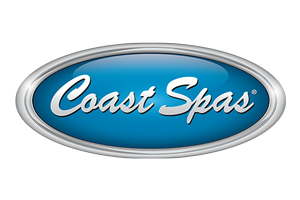 WE BUY & IMPORT DIRECTLY FROM THE MANUFACTURER, IN CANADA
Over the years, we have done our homework on hot tub quality and design so that we can offer you a range of hot tubs unlike any other, ensuring that the range is comprehensive and innovative.
To keep our pricing as low as possible, we do not buy through a UK Distributor, we order all of our spas in directly from Coast Spas Manufacturing in Vancouver in 40ft containers, we then store them in our own insured warehouse facility in Northamptonshire.
We are not a franchise, we have sold other brands over the years, but we feel Coast Spas offer everything from design, innovation, filtration, exclusivity, price and efficiency. 
We have now retailed this brand for more than 10 years!
We also sell on used spas at affordable prices, these spas are reconditioned and available with a warranty and are thoroughly serviced & refurbished prior to sale. 
Whichever hot tub suits your needs and budget, we are confident that we can offer you a hot tub package that cannot be beaten on value for money and quality. 
0% Finance Available – SPREAD THE COST…
Working in Partnership with Omni Capital Finance we can offer 0% Finance.
With prices starting from as little as £4,995.00, and just a 20% deposit required all of our new spas can be made very affordable.