Former Diamond Specialist retailer, Jennifer Angood, has created a hot formula in Towcester, for achieving sparkling success in the wet leisure industry!
Laying claim to be the oldest town in Northamptonshire, Towcester is the former Roman town of Lactodurum. During the Roman occupation of the area, which produced this name, a garrison town emerged and Watling Street was built that has since become the bustling A5 road.
In November acclaimed jockey Tony McCoy put Towcester firmly on the sports map and for horse racing audiences in the UK and around the world, when he achieved his 4,000th career win riding Mountain Tunes to victory in the Weatherbys Novices' Hurdle at the Towcester race course, which is set in the stunning parklands of the Easton Neston Estate, near Watling Street.
Historic Site
The area also hosts the Bell Plantation Garden Centre on a ten-acre site, off Watling Street. Fully modernised for the 21st century, the site is currently home to an independent Country and Outdoor Living Centre that has been built on the site of the same name.
Originally owned by the Bell Coaching Inn, which was demolished by the middle of the 19th century for road widening development, the lively Bell Plantation Garden Centre site is now making its next chapter of Towcester history after saddling up as the host to a speciality Retail Centre and an elite group of companies including Hot Tubs at Home.
Blossoming Showroom
In 2006 Jennifer & Daren Angood launched Hot Tubs at Home to promote the virtues of the USA-manufactured Dimension One brand of hot tubs to the Towcester community, and Northamptonshire's surrounding regions filled with potential customers. Two years later, in 2008, the decision was taken to introduce Canadian manufactured Coast Spas, as an additional hot tub brand to the blossoming fortunes of the showroom's wide variety of products.
Despite the country being gripped by its worst economic struggles since the 1930's and householders in Towcester and the Northamptonshire area feeling the brunt of severe austerity measures, Hot tubs At Home have managed to sustain annual growth in all of the years since becoming a wet leisure retail specialist. This has been achieved by drawing on almost a decade of previous experience producing consistently high levels of sales in the jewellery trade.
While many lesser retailing rivals have departed from their hot tub showrooms in the area, a growing band of satisfied customers is testimony to Hot Tubs At Home's steadfast attention to their individual requirements. This has resulted in a bumper crop of referrals among Jennifer's many showroom achievements in the past seven years.
"I'm a firm believer that people buy from people that they feel comfortable with," Jennifer revealed. "As a sales person you have to be confident in your products and gain people's trust by finding out about their individual requirements to guide them in the best direction, before they make a purchase."
Star Performer
In her early teens, Jennifer cut her teeth in the luxury retailing world by working in a jewellery shop in nearby Milton Keynes. It soon became apparent that Jennifer had a talent for sales and a passion for working with people, and her career selling diamonds sparkled for a decade before she dived into the wet leisure industry for a new retailing challenge.
Once you speak to Jennifer you get the feeling that she could sell snow to an Eskimo and if she had been around during the Roman occupation of Towcester she would have probably been selling them chariots! During her ten-year stint in the jewellery trade, Jennifer had become such a skilled technician in the art of luxury product sales that she consistently outperformed everyone in her shop premises where she was based, as well as the company's other branches in the region.
"Throughout my career in the jewellery trade I amassed a lot of Golden Star performances with the company I worked for," divulged Jennifer; "Not only did I achieve higher sales than my colleagues in the shop where I worked, but in the region I generally came out top as well, which is quite an achievement".
Display Impact
At the time of our interview there are 19 new and used hot tubs on display in the impressive Hot Tubs at Home showroom. Including models from the Cascade Series, Patio Series and Wellness Swimspa Series, all manufactured by Coast Spas – who boast that they create the world's best built spas and have gained international recognition this year after landing the 2013 Readers' Choice Global Best Hot Tub Brand Award.
Jennifer believes that her showroom's large display, which also includes RotoSpa and Softub, plus Sunsoka pools; a 4m sunken sport pool, pool and spa enclosures and gazebos; as well as the pre-owned models produced by Arctic Spas, Beachcomber and Jacuzzi, to name but a few; from such high calibre quality manufacturers ensures potential customers are always going to be spoilt for choice.
This, Jennifer divulges, is another key ingredient to her ability to achieve an incredibly high percentage of sales conversions following just the initial showroom visits by prospective customers from throughout the Northamptonshire, Buckinghamshire, Oxfordshire and Milton Keynes areas.
When you first take in the wide variety and array of showroom models, with prices starting from just under £3,000, you may still wonder how this strategy pays off rather than producing 'product overload' in a potential customer's mind. Once you realise there is a Gold Star retailing pedigree behind the scenes ensuring that there is an instant impact with prospective customers on the showroom floor, then it becomes apparent why there is always consistent sales success at this dealership, which is open seven days a week and provides one of the largest chemical and accessory displays in the county.
Closer inspection of the overwhelming display and choice of hot tub models, with a minimum of three always filled, along with swim spas, pools, gazebos, hot tub and pool enclosures, reveal that there are a multitude of designs on show of all shapes and sizes, as well as colour preferences to suit most people's requirements.
"Over time we have built up the number of display models to ensure that we can meet the requirements of virtually everyone who comes into the showroom," explains Jennifer. "We don't have any gaps in our showroom and that's why our conversion rate and refferal rate is extremely high."
"We have all shapes, sizes and depths of models on display to cater for a wide cross section of customers. We recently had a 6ft 5″ tall customer in, he purchased a hot tub within ten minutes! That's because he had finally found a hot tub that was ideal for his depth requirements after a long search and many showroom visits across the County".
"I would hate to lose a potential customer just because we have not got the ideal size, shape or design of hot tub that they are looking for to match their needs and budget. That's why I love Coast Spas"
Debt Free
In the current climate, with the common scenario of many high-street retailers just about surviving amid reports of household names with long histories in the market closing down, Hot Tubs at Home is bucking the trend. Jennifer is currently creating her next chapter of retailing prowess with a remarkable business story of being totally debt-free and achieving consistent annual growth.
"All of these tubs that prospective customers see on display in our showroom are all ours," Jennifer proudly states: "We have no debt and that's a very strong position to be in when it comes to providing our potential customers with the vital peace of mind required to make them commit to a high-value purchase".
"If customers ever question the fact that we may disappear with their money when we ask for a payment up front, I simply tell them that we are debt free and have no worries in our business to put us in any financial danger. I also inform them that all of the hot tubs that they can see in our showroom are already paid for, so I would want to be selling those first before I go anywhere!"
People Skills
Jennifer is a strong believer in having the necessary people skills to help communicate and build up a relationship with potential customers, to ensure every sale is achieved by finding the best possible solution for the hot tub's new owner. Rather than lose out to other retailers, Jennifer has built up a formidable reputation for exemplary customer service as part of her firm belief that people buy from people they can trust.
This sales philosophy and customer commitment has enabled Jennifer to land the prestigious Coast Spas Outstanding Customer Service 2012 Award recognition, which is only presented to one dealer per country. The dealership also landed the Coast Spas Outstanding Growth Award for 2012, as well as being a short listed nominee for the Best UK Showroom 2012 by the Canadian manufacturer. It followed successive Coast Spas Achievements Awards for 2009, 2010, 2011 and 2012, while other industry accolades are proudly displayed including Best New Dimension One Dealer and the WhatSpa? 2013 Approved status.
"My first ever hot tub customer was a family with a seven-year-old girl who had cerebral palsy," divulged Jennifer; "And it has given me the experience to realise that you should always communicate with a potential customer to find out what their requirement for a hot tub is and what it is going to be used for. "While talking to the Little girl's parents I found out that they used to get her in the bath straight away once she came home from school, as they found the warm water eased her Cerebral Palsy symptoms. We concentrated on every aspect of the little girl's requirements and, once the sale had been made, we also made sure that we wrapped the hot tub up in a bow as we were delivering it in time for her birthday".
"That experience has stuck with me ever since and that's why I love this business. No two customers are ever going to be exactly the same, so you can't just simply push your own favourite model choices on them to try and achieve a sale."
Product Confidence
By ensuring the thriving showroom is fully stocked with plenty of options and only high quality products, Jennifer believes she has the power and conviction to fend off any potential customer demands for heavy discounting. Her showroom also generates confidence by promoting additional services including: free wet testing capability; a finance facility, through Omni Captial ; free home visits and site inspections; spa cabin and gazebo installation and fitting by a fully qualified team of professionals, backed by guarantee; hot tub repairs; hot tub, swim spa and pool servicing; weekly chemical checks; holiday cover; re-location and storage.
"I'm very confident about our products and services so I don't need to reduce the price just to achieve a sale. It's not all about money. You get what you pay for in this indutry. I believe if you buy cheap – you buy twice. Our spas are extremely well priced for a quality you can rely on" declares Jennifer. "When someone tells me that they can get a hot tub at a cheaper price then we will sit down and compare both products in depth so that the customer can make informed decsions. I know that I've got quality products from reputable manufacturers on display".
"At the end of the day, in this day and age, everything can be sourced cheaper online. My preference is to retail a quality products that I am happy to promote at the appropriate price and not heavily discount to the point I go out of business. When I speak to my potential customers my intention is to always stick to these principles and I explian that I intend on being here to support them in the future for any servicing requirments. All too many retailers use the 'stack 'em high, sell 'em cheap' theory, but then they go our of business and cannot uphold any warranty or aftercare / maintenance".
"We must be doing something right because we continue to be profitable and during the time we have been here at this showroom, there have been ten dealers that have gone in this area."
Rogue Dealers
With the recent economic improvement, Jennifer believes that the wet leisure industry will once again be plagued with the problems of rogue dealers springing up to create additional competition for reputable showrooms, while tarnishing the market with poor quality products and little regard for customers.
"As the economy improves there will be dealers of cheap, poorly manufactured hot tubs springing up and rogue retailers who don't care about their customers coming into the market to try and make a quick profit," said Jennifer.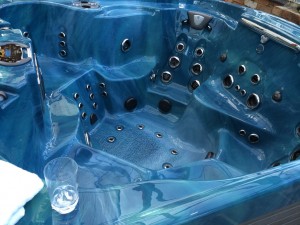 "It's frustrating to realise that even though we've managed to come through the worst years of the recession by achieving annual growth, we are still going to be faced with competition from these 'sale at all costs' rogue retailers in the future.
"Unfortunately the majority of consumers searching for their first hot tub in the current market are not well-informed enough to avoid falling into the traps of these dealers. They do not know the pitfalls of purchasing a cheap hot tub from an unreliable source.
"Even when you try extremely hard to educate new hot tub consumers about looking for quality engineering, and advice about Balboa technology, the manufacturers of poor quality hot tubs try to get round this by putting this branding on their various promotions."
HTR (Hot Tub Retailer) spoke to Jennifer Angood to find out what has been the secret to her retailing success.
Why did you become a wet leisure retailer?
JA: I love retail and had always achieved top sales and gold star performances throughout my career in the jewellery industry but then new sales techniques and training was being imposed on us, which conflicted with my personal style of customer service and principles. I hit my targets every week and every year and never had any problem achieving sales, so I felt that it was finally the time to look for a new challenge and I found it with the opportunity to enter the wet leisure industry.
Has it helped having previous luxury products experience?
JA: It has definitely given me a good grounding. When you are selling luxury products in any market you have to understand that you need to quickly build up a relationship with a prospective customer so that they have confidence in you and your products before they are willing to part with their money. I was successful in my previous career because I realised that people buy from people and they will go elsewhere if they feel you are providing a poor customer service. That's why it is important to listen to your prospective customers and find out what their requirements are by building up a rapport with them.
Why did you decide to supply Coast Spas?
JA: I want to have confidence in the products I supply. I know that Coast Spas has very strict ISO 9001-2008 quality standards during the manufacturing process and at all levels of the company, which I can inform customers about. If you have quality products in your showroom from a reputable manufacturer then you don't need to heavily discount them. You should never feel under pressure to discount luxury products to achieve a sale.
Why have you got so many hot tubs on display?
JA: We started off with three hot tubs on display in 2006 but over time we've built up to our current level of around 18 in store and over 40 in our own warehouse. It now ensures we can cater for most of our customer's requirements. I would hate to have to go back to a showroom with a small display. If you have an elderly couple, for example, they will probably want a 30 inch hot tub so that they can enter it easily, whereas someone who is 6ft 5 will want a much deeper model.
Have you annually increased profitability?
JA: We must be doing something right because we continue to be profitable and have sustained annual growth, despite the country being gripped by severe austerity measures. During the time we have been here at this showroom we have grown while others have folded. There have been ten dealers that have gone in this area, while we are going from strength to strength.
How successful have sales been this year?
JA: We've had another good year. It's all about being sensible and not selling lots of hot tubs for little profit. We certainly don't want to be busy fools. I would rather sell 80 hot tubs and make good levels of profit than sell 150 models for very little financial benefit. I don't think that kind of business strategy is ever going to be sustainable in the long-term.
Do you get good referrals?
JA: Yes, we get a lot of referrals. Every year our number of customer referrals increase and this year has been the best in terms of sales from customer recommendations. Now our existing and prospective customers even ask for me personally and book appointments to see me, because they know I've built up such a high reputation of providing quality products with exceptional customer service. You have to build up a strong relationship with your customers if you want to achieve the benefits of gaining good levels of referrals.
What advice would you give to other retailers?
JA: You certainly need to have the correct sales mindset if you want to be successful in this competitive market. You have to communicate professionally with all of your potential customers to find out their exact requirements, so that you can ensure a sale is achieved, rather than lose out to other retailers. I love finding out about people and helping them purchase a hot tub. It is a very emotive process and also very personal when it comes to choosing hot tubs. So you have to be able to provide the right amount of professional guidance to achieve a sale.
Any other tips?
JA: Never presume anything about a prospective customer. I often find that someone who turns up in a high-value car will probably be the one who is going to be haggling over price. As we have found out, it also helps if you can meet most people's choice requirements in your showroom.
Are you optimistic for the future?
JA: Yes, very optimistic. Although, that is me in general. My husband says that I live inside my own bubble. But maybe that's a good thing. I rarely have a down day, I love my job. I have some plans in place for the coming year already and I am very excited to see what next year brings.
Contact Details
Hot Tubs at Home
Bell Plantation Country Living Centre, Watling Street, Towcester, NN12 6GX.
Tel: 01327 359191
Email: info@hottubsathome.co.uk