Description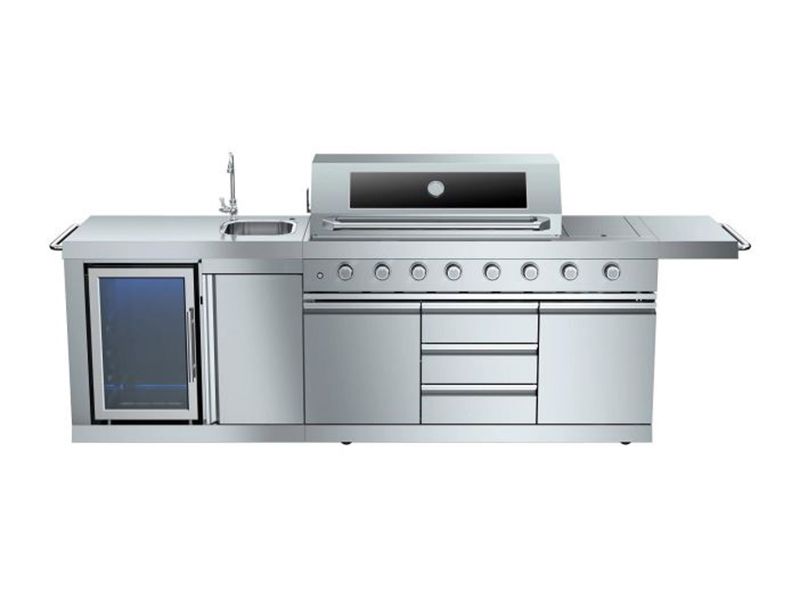 DO YOU FANCY BEING ABLE TO COOK OUTDOORS?
Well, our stunning six burner stainless steel outdoor kitchen is the perfect way to begin your outdoor cooking journey!
This outdoor kitchen comes complete with a grade 430 stainless-steel body panel, cooking grill and high temperature resistant illuminating fridge!
Perfect for any outdoor space, this fantastic piece of equipment has a variety of uses and intricate spaces for all your culinary needs!
With its LED controls and glass lid panel, it will make your outdoor cooking experience even more special.
This 6-burner model comes complete with a 3.5kw power rating, as well as being multifunctional to accommodate your outdoor cooking experience!
As well as its stunning exterior, this barbeque will make all your outdoor cooking needs a lot easier with its warming rack, built-in sink, 4 main burners, 1 side burner and 1 back burner!
THE FINER DETAILS:
Includes WEATHER COVER & ROTISSERIE
ALSO INCLUDES… Sink, Outdoor Fridge, Faucet, and glass window hood
• Stainless Steel Grill 
• 430 Stainless Steel Frame
• 2 Cast Iron Plates
• 1 Cooking Grid 
• LED Knob Light & Back Light
• Cooking Area: 96 x 46cm / Side Area: 30 x 46cm     
• 3000BTU (0.87KWH)* 6 main burner ,12200BTU (3.52KWH) *1 side burner , 15300BTU (4.48KWH)*1 back burner
• Main burner*6+ side burner*1 + back burner*1,warming rack* 1
• Infrared side burner and infrared back burner
• Burner:SS304 with LED light set (knob and back burner)
Size: 273.5cm x 60 x 119cm